Solstice News December 2020
Where are we now?
Talking with Faye Blake
Book Review
Looking at a Chart
A solstice gift
Where are we Now?
If you follow any astrology at all, you will know that today, the 21st December 2020 is a big deal. Jupiter and Saturn conjoin at zero degrees Aquarius.
Every 20 years or so these two mighty planets which astrology tells us govern social trends, appear to be in the same place in the sky from our point of view here on earth.
For about 200 years (usually with one exception) they meet up in a sign of the same element. So for the past 200 years beginning in 1801 this conjunction cycled backwards through the zodiac starting in Virgo, then Taurus, then Capricorn and repeating that sequence with one exception in 1980 when they met in Libra (air sign, preview of the coming 200 year cycle).
And for the next 200 years these social planets will meet starting today (December 21st 2020) in Aquarius, then Libra (2040), then Gemini (2060), and repeating the sequence in that order.
What might this mean?
I think D H Lawrence had something when he wrote Song of a Man Who Has Come Through, here are the first two lines:
Not I, not I, but the wind that blows through me!
A fine wind is blowing the new direction of Time.
The Wind reference is appropriate because Aquarius is an AIR sign. For the past 200 years  Jupiter and Saturn have been meeting in EARTH. … which according to some astrological thinking may explain our species-wide rapacity and exploitation of earth resources.
Consider the element of AIR. It pervades. Aquarius carries social connectivity, and along with the other AIR signs is to do with the mental realm. New thinking anyone?
Talking With Faye Blake
If the internet is anything to go by, interest in astrology is going galactic. Astrologers of all kinds abound. The splendid Astrology Podcast gives long form discussions with accomplished practitioners. But if you haven't got the spare 2 hours or so to listen regularly, I'm starting a short-form series.
The idea here is a 5 to 7 minute excerpt from a conversation. If the material interests you, there are links where you can discover more…
I'm delighted to welcome Faye Blake as my first guest in this series. A thoroughly accomplised astrologer, she has an extensive website with all kinds of content and featuring her "Monthly Planet" newsletter which is excellent reading. Faye has several specialities. Among them is expert knowledge of the heavenly body, Ceres. From an astrological point of view Ceres is hugely relevant to us now given the environmental crisis of our times.
Here are a few references from the talk which may be useful:
Rupert Sheldrake: very well worth looking at his material if you don't know him already, easy to find on YouTube and other places. A holistic scientist.
Demetra George: wrote The Asteroid Goddesses, pioneering work.
Ken Wilbur: a spiritual psychologist, wrote No Boundary
Nick Campion: astrological historian and academic
And here is Faye's post on the Great Conjunction mentioned above.
Another area of Faye's expertise is career counseling. She is well versed in all the usual ways to explore vocation but with the added deep personal insight offered by the astrology. If you are looking to re-invent your work life in these challenging times or just for general interest you might like to check out her book.
Book Review
With a Gemini Moon in the 9th it's not surprising that I am reading too many books at one time. At the moment my bedside astro-reading stack includes:
Evolutionary Astrology by Jeffrey Wolf Green, The Hades Moon by Judy Hall, Understanding Karmic Complexes by Patricia L. Walsh, The Astrology of Love and Sex by Annabel Gat, Vocational Astrology by Faye Blake
I review Faye's book here
Looking at a Chart
This is the natal chart of D H Lawrence, the guy who wrote the poem that I recite above.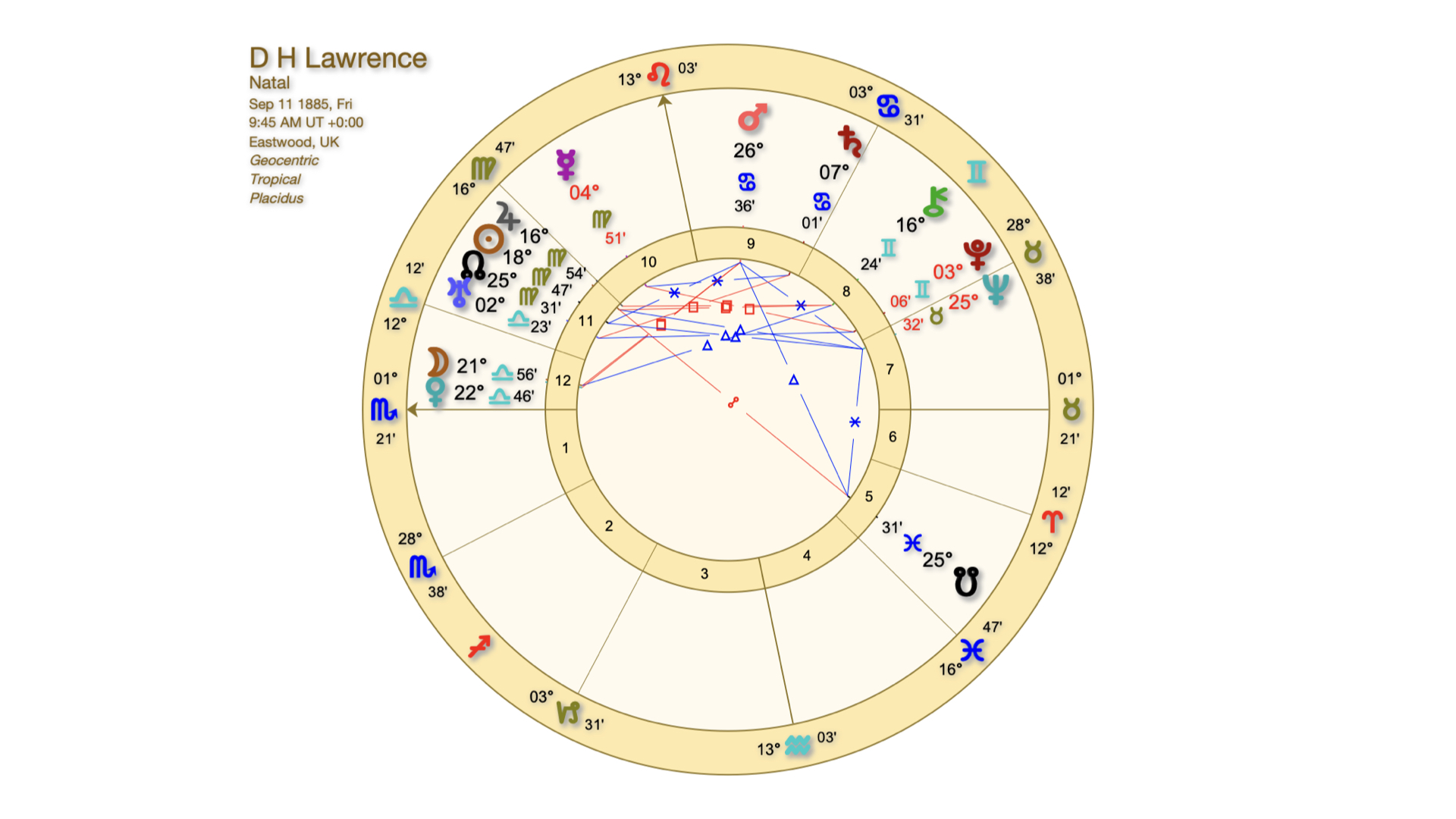 And here are are few things that one notices immediately.
First off: Pluto, Lord of the Underworld, source of many things, but among them, personal power, in Mercury-ruled Gemini in the 8th House of the hidden, the deep, the intense – read some more of Lawrence's poetry and tell me if you agree that that seems to fit?!
And talking of Mercury, the writers' God, he is elevated in the 10th House of career in his dignity in Virgo, and from there Mercury also rules the Sun/Jupiter conjunction in the very visible 11th House, and the Sun is widely conjunct the north node of destiny, which is itself widely conjunct the planet of originality, Uranus.
Mars is the chart ruler, placed in the 9th. Learning about sexuality perhaps? But not without difficulty because Saturn is there too. And it's Mars in Cancer – a noted feature of that placement is a tendency to fight for causes.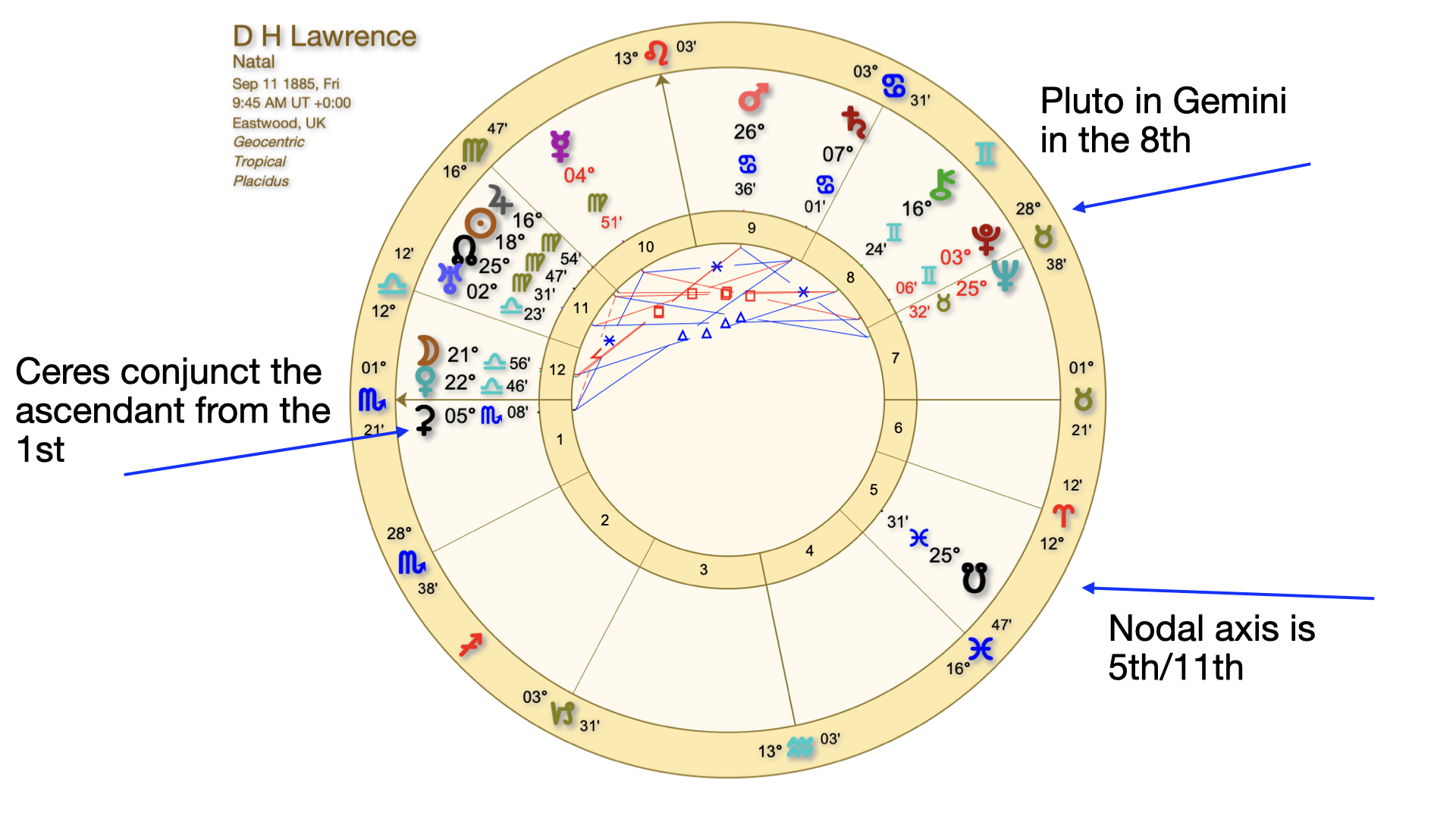 But it's the 12th House that grabs me. Before we get to that, notice that everything is in the Southern Hemisphere in the chart. Would there have been a what-you-see-is what-I've-got quality to the man? But all of that behind the watery smokescreen of a Scorpio ascendant, so if you knew him personally you might not really have had any idea what was going on with him.
So here was a man, as we know, a powerful writer – so frightening to the authorities that they banned one of his books, Lady Chatterly's Lover for about four decades. But if ever a man was in search of the divine feminine, I nominate D H Lawrence. Consider a few of his titles to start with: Women in Love, The Virgin and the Gypsy, Sons and Lovers, 
The Moon in the 12th, in touch with the secrets of the deep subconscious, rules Mars as stated above. But notice please the relationship between Moon and Venus, with Venus conjunct the ascendant from the 12th, and now notice Ceres conjunct the ascendant from the 1st – here is Maiden, Mother, Crone – as referenced in my talk with Faye above. I like that. I had not mentioned Lawrence to Faye, I chose his poem because of the "…fine wind…" and the Great Conjunction, and I did not know that Ceres in Lawrence's chart sits conjunct his rising sign until I asked the software to add her in to the mix. One of those minor synchronicities that I enjoy!
A Solstice Gift
So I've slightly revamped this site (ongoing). You might like to take a look at the new Resources Page. This newsletter will now offered on a quarterly basis. If you're new here and you find the content interesting by all means enter your email for a low-impact way to stay in touch.
And … if I have already read for you I will be contacting you early in the New Year.
Meanwhile, If you would like a reading, if you make a booking with me by the end of the year, to be taken anytime between now and the spring (northern hemisphere) equinox on 20th March 2021, I offer it on a donation basis with a $1 dollar minimum.
It takes me between 2 and 3 hours to prepare to read for someone, so this is not something I can afford to do all the time! But if you'd like to take up this offer then:
Email me at Colin@galacticfragment.com with Solstice in the subject line before December 31st 2020.
Include your birth stats: Date, time (if you know it), location
Your preferred appointment date – anytime (subject to availability) between now and  March 20th 2021. If I am booked that day I will get back to you with alternatives.
Happy Solstice!