… for a group of astrologers? A conjunction perhaps, a stellium?
I've lately returned from a week long course in northern Spain, run by Sue Tompkins. Sue's splendid books, The Contemporary Astrologer's Handbook and Aspects in Astrology, should be on any aspiring astrologer's reading list. They are what inspired me to go.
The course was held at Torre de Dalt (latorrededalt.com) an old style villa about an hour and a half north of Barcelona, near the city of Girona, complete with pool, views, and a wide terrace with a long table at which the company took meals.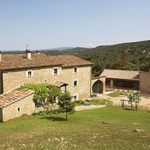 The first part of the week was loosely focussed on medical astrology with classes on sign and planetary rulership of body parts and organs, followed by chart analysis of case studies. In the second part of the week we looked more at general chart analysis and met with a client from the locale to whom we gave a reading.
The course and its content was fascinating and interestingly presented, but a lovely feature of the week was the very relaxed atmosphere. We were a range of types, a mix of professional and domestic backgrounds as you might expect in a gathering of a dozen and a half people, but united by serious interest in astrology. Wine and conversation flowed after the evening meal (delicious vegan cuisine supplied by Kim Farley, also an experienced exponent of the art astro). Over the week stories and personalities emerged easily. Everyone seemed available.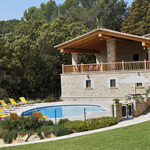 Maybe when a group unites temporarily in receptive study there can be a raising of the collective vibration? I don't know. But to me the week was a graceful experience, notable in troubled times, of how human beings can be with each other.
Oh, and as my wife pointed out, I was the only guy on the course.
"Really?" I said, "I hadn't noticed."
Suetompkins.com for mailing list and details of further events.